Digital Transformation
Our approach to Process Digitization and Process Optimization

Ready for digital transformation?
We help organizations accelerate future-proof by bringing people and technology together! 
Everything changes. The world after the COVID-19 pandemic is demanding that companies accelerate the pace of their organizational transformation to be digitally agile. By continuously improving business and IT, you as a company remain relevant for your customer. 
bQuind's approach to Digital Transformation
Our experts help to materialize an actionable vision and strategy, so that your organization can respond quickly to changing customer needs and stay ahead in the market. Your culture, systems and processes are therefore the starting point in our process-oriented approach to guide progressive organizations from the strategic framework, business analysis & design to a successfully implemented transformation strategy. 
We start with meeting an immediate need and then seamlessly expand to a broader implementation strategy. The strategic goals, business processes, architecture and optimization possibilities must be leading to realize the digitization efforts for your organization.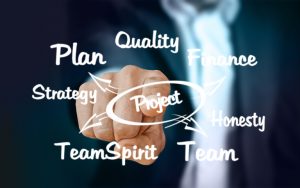 bQuind empowers your Digital Transformation
As one of the leading implementation partners of BPM software in the Benelux states, we certainly know the market very well. bQuind delivers sales, consulting and implementation, provides training of key users and support.
Interested in our Digital Transformation Approach? Use one of the contact options below.
Successful digital transformation
The digital transformation demands a lot from companies: for a successful digitalization, existing processes must be adapted and replaced by more efficient, digital workflows. You have to transform your processes and IT profitably and make digital change in your organization a success.
Did you become curious about the Digital Transformation Trends in 2021 and which technologies will make the difference and helps you strengthen your competitive position?
Request our whitepaper that has been set up in collaboration with our business partner GBTEC.
Learn more
Would you like to learn more about our view on Digital Transformation? Then let's get in touch! Give us a call, or use the contact form below. We will be happy to discuss what bQuind can do for your organization.