BPM consultancy
The best of business process management
Improving results with BPM Consultancy
bQuind is convinced that well-defined processes are essential for delivering quality products and services. So, if you want to improve your business results with processes, BPM consultancy is meant for you! 
We support designing or redesigning business processes by creating a process architecture and modeling conventions. We can advise you on how to do this, and we can work with you in your BPM competence center or in your product team.

We support implementing business processes. Not just by publishing processes but also by helping your organization to adopt them.

We can help you create quick wins with Robotic Process Automation.

We can help you monitor business processes by presenting Key Performance Indicators

 

(KPIs) on a management dashboard in a process-oriented way.
Process models support your organization, but they can't work the magic by themselves. This is why bQuind offers the best of Business Process Management (BPM) but never loses sight of what is most important: the people in your organization.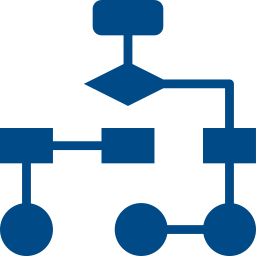 Expertise in BPM tools and methods
bQuind consultants are leading experts in BPM, Process Reengineering and Six Sigma. All of us have from five to twenty years of experience in these fields. We analyze your business processes using Lean and Six Sigma methods.
We help you mine your transaction systems. In doing so, we bring business processes into view as they actually take place. We help you gain insight by comparing these real processes to your designed business processes.
We take your business to the next level by connecting your equipment to your business architecture; think Internet of Things (IoT). This allows you to analyze the impact of changes in business processes much faster than ever before.
For design, implementation, and creating dashboards, bQuind works exclusively with the leading BPM software platform: ARIS, from Software AG. bQuind delivers ARIS implementations and manages ARIS upgrade projects – both for updates and for upgrades.

For process integration, bQuind works with leading BPM suites from Software AG, IBM and Appian.

For Process Mining, bQuind implements solutions based on tools from Software AG and Celonis.
bQuind has years of experience using both EPC and BPMN. This is why we can give you detailed information on the pros and cons of each method.
To keep you oriented, we have developed Quick Reference Cards (QRCs) for both methods. We can tailor these cards to the demands of your organization. This simple tool helps modelers to increase the quality of their output. The standard sets of EPC and BPMN cards are available here as free downloads. Try them! 
There are more ways to increase modeling quality. Automatic Semantic Checks is one of them. We are happy to discuss with you which approach works best for you.
Case in point: Quick Reference Cards
Let's zoom in on one of the many ways we make BPM solutions easy. To model business processes, two methods are generally used:
The Event-driven Process Chain (EPC) method. This method exists for more than 30 years and can be used for a wide range of business process types. The ARIS toolset was originally developed to support this model type and other model types of the ARIS method.

The open standard Business Process Modeling Notation (BPMN). This method is useful when process models need to be exchanged between different software platforms. In addition to supporting this method, ARIS also offers the more comprehensive Enterprise BPMN (eBPMN) method.
Free Download
When is bQuind BPM consultancy for you?
Does your organization have a BPM competence center? Are you looking for ways to bring business process management to a higher level? Do you feel that thinking on a human scale is all-important if you want business processes to be effective? Then it's very likely that bQuind can make a valuable contribution to your business.
So let's get in touch! Give us a call, or use the contact form below. We will be happy to discuss what our expertise can do for your organization.